The Projects Dissemination Area | participant projects
The Research Agorà is an important forum dedicated to Research Project Consortia within the International CAE Conference and Exhibition and provides an ideal environment to present their project concepts and publicize their achievements to a wide and influential audience.
This dissemination area hosts the participants' project posters, and gives them the opportunity to provide live demonstrations. Participants also have the opportunity to further promote and explain their research results and achievements during the scientific sessions.

RBF4ARTIST | Interactive sculpting with force feedback for engineering purposes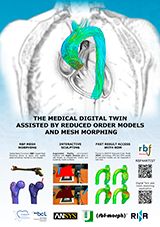 The continuous improvements and recent implementations in computational methodologies, modelling and simulation are deeply changing the way particularly problematic diseases (e.g. aneurism) can be studied and cured. Clinical and imaging data, acquired with state-of-the-art techniques and equipment, can be used to develop specific Computer Aided Engineering (CAE) multi-physics models, which are a digital replica of the physical body (Digital Twin) useful to study both pathologies and their progress. Augmented Reality (AR) and Haptic Devices allow researchers and physicians to interactively define and apply shape modifications to model surfaces. Mesh Morphing and Reduced Order Models (ROM) enable to easily the modification and inspection of results of Computational Fluid-Dynamics (CFD) and Computational Structural Mechanics (CSM) analyses in real time. The RBF4ARTIST project aim is to develop methodologies and platform capable to efficiently join these novel technologies in order to assist the generation, management and exploitation of the Medical Digital Twin.
PARTNERS:: RINA CONSULTING S.P.A. • BIOCARDIOLAB, BIOENGINEERING UNIT, FONDAZIONE TOSCANA "G. MONASTERIO" • RBF-MORPH • ANSYS FRANCE • UNIVERSITÀ DEGLI STUDI DI ROMA "TOR VERGATA" - DIPARTIMENTO DI INGEGNERIA DELL'IMPRESA
Funding Scheme: RBF4ARTIST
Medical Digital Twin

DIMAS | Highly automated technologies and processes for production of composites structures and their maintenance lifecycles of products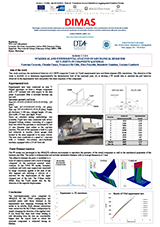 The DIMAS research project aim to develop the two following research themes:
1. the development of technologies to the thrust reduction of costs of the production process of stiffened panels of composite material through the realization of innovative equipment that will allow a "direct" integration of stiffening elements, thus eliminating the subsequent stages of assembly of such components.
2. the development of a structural analysis platform with the aim to perform diagnosis and prognosis in the presence of structures in composite material damaged and / or defective.
PARTNERS:: DTA SCARL • LEONARDO • ENGINSOFT S.P.A. • UNIVERSITA' DEL SALENTO • POLITECNICO DI BARI • ENEA • CNR • DIVISIONE AEROSTRUTTURE • SALVER • GSE • CONSORZIO CETMA • BLACKSHAPE
Funding Scheme: MIUR - Avviso n. 713/Ric. del 29/10/2010, Titolo III – "Creazione di nuovi Distretti e/o Aggregazioni Pubblico Private"
Composite materials
SINFONET | Smart & INnovative FOundry NETwork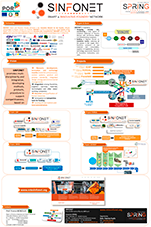 SINFONET (Innovative Foundry Network of Regione Veneto) supports competitiveness by - R&D, Innovation, technology transfer: materials, process, standards, design, resources management; - Supply chain integration; - HR qualification; - Participation to Competitive Calls; - Internationalization. Partners are foundries, suppliers (alloys, consumables, engineering, technology), R&D Institutes, end-users.
PARTNERS:: FONDAZIONE CENTRO PRODUTTIVITÀ VENETO • DTG, UNIVERSITÀ DI PADOVA • ENGINSOFT S.P.A. • SAEN S.R.L. • VDP FONDERIA S.P.A. • TMD DEMOTECH • RTM BREDA SRL • TMB S.P.A. • SIT S.P.A. • LINO MANFROTTO + CO. S.P.A. • LPM S.P.A. • F.A.B. SAS • MARCHETTO F.LLI S.R.L. • TECNOLABOR SRL • FONDERIE SOLIMAN S.P.A. • FIM CAST S.R.L. • UNILAB LABORATORI INDUSTRIALI S.R.L. • SAFAS S.P.A. • GSA S.P.A. • FONDERIE DI MONTORSO S.P.A. • BUSON SRL • FONDERIA PASUBIO SRL • AMS SRL • ELECTRONICS GMBH • RAFFMETAL S.P.A. • ECOR RESEARCH S.P.A. • METEF SRL • ALFIN-EDIMET S.P.A. • CONFINDUSTRIA VENETO SIAV S.P.A. • ITALKER SRL • MODELLERIA POZZAN SRL • SATEF HÜTTENES ALBERTUS S.P.A. • CESTARO FONDERIE SPA • FONDERIE ANSELMI SRL • SAV SPA • SVILUPPO FORMAZIONE SCARL • FITT SPA • FONDERIA POVOLARO SRL • MICROSERT SAS • GRIMECA S.R.L. • FONDERIA CORRA' S.P.A. • ELKEM SRL • SLIM FUSINA ROLLING S.R.L. • ADI TOOLS SRL • RDS MOULDING TECHNOLOGY S.P.A. • ANTONIO CARRARO S.P.A.
Funding Scheme: Regione Veneto (L.R. 13/2014)
Foundry technologies

M3-NET | Meccanica di precisione, Microtecnologie e Manifattura additiva
M3-NET Precision Mechanics, Microtechnologies and Additive Manufacturing was born on impulse of the University of Padua - TE.SI. Laboratory and of Confindustria Venezia - Metropolitan area of Venice and Rovigo, is made up of 52 partners from the Precision Manufacturing Engineering sector, including 46 companies and 3 research institutes and 3 institutions. Its activities include: A widespread projects planning; Training and technology transfer; Strengthening and networking of research laboratories; Internationalization.
PARTNERS:: CAREL INDUSTRIES SPA • FISCHER ITALIA S.R.L. • FRO - AIR LIQUIDE WELDING SPA • IRCA SPA INDUSTRIA RESISTENZE CORAZZATE E AFFINI • MEVIS SPA • POLIDORO • PROMOTEC LASER SHEET METAL CUTTING SRL GRUPPO GIGANT • SIAE MICROELETTRONICA S.P.A. • SIPA SPA SOCIETÀ INDUSTRIALIZZAZIONE PROGETTAZIONE E AUTOMAZIONE • SISMA SPA • CADEL SRL • DENA LINE SPA • ECOR RESEARCH SPA • ENGINSOFT SPA • PANOTEC SRL • SILIKOMART SRL • UNITEAM ITALIA SRL • CAB SNC COSTRUZIONI AERONAUTICHE BERTOLA • CONFINDUSTRIA VENETO SIAV S.P.A • DA VIA' LUIGI SRL • DELKA SRL • DELLE VEDOVE ADELCHI S.N.C. DI A. & R. DELLE VEDOVE & C • DWS S.R.L. • LUCCHESE INDUSTRIA SRL • MAS ROOF S.R.L. • MBN NANOMATERIALIA SPA • MECOME SRL • METAL FINISH SRL UNIPERSONALE • OFFICINA DEI MATERIALI SAS • PFACTOR S.R.L • PIERRESSE SNC • PRISMA TECH SRL • PROMOTEC LASER SHEET METAL CUTTING S.R.L. • REHATEAM PROGEO • VAR CONNECT SRL • ARCHETIPO SRL • DFF SRL (STARTUP INNOVATIVA) • HIKARI SRL • MAGNOLIA SRL • MICROSERT DI FASOLATO L. & C. SAS • NADIR SRL • PLUMAKE SRL • POPLAB SRL • PROTOLAB S.R.L • STUDIO DR.BALLARDINI L. SRL • TEKNEIDOS S.R.L - START UP INNOVATIVA AI SENSI DEL D.L. 179/2012 • TREDITU S.R.L.S • UNIVERSITÀ DEGLI STUDI DI PADOVA • FONDAZIONE BRUNO KESSLER • FONDAZIONE UNIVENETO • INFN – ISTITUTO NAZIONALE DI FISICA NUCLEARE – SEZIONE DI PADOVA • CONFINDUSTRIA VENEZIA AREA METROPOLITANA DI VENEZIA E ROVIGO • UNIONE REGIONALE DELLE CAMERE DI COMMERCIO I.A.A. DEL VENETO
Funding Scheme: Regione Veneto (L.R. 13/2014)
Precision Mechanics, Microtechnologies and Addictive Manufacturing
Listen to the interviews of the Research Agorà protagonists