Lunedì 8 Ottobre 2018 ore 14:00 | Seminario
Co-design di componenti colati e forgiati | Come il dialogo con i fornitori può migliorare la qualità e le performance dei vostri prodotti
Un nuovo evento dedicato a tutte le aziende che usufruiscono di forniture derivanti dal mondo della fonderia e della deformazione metalli. Questa è la proposta di EnginSoft all'interno della 34° edizione della International CAE Conference and Exhibition.
Producibilità e rispetto della qualità sono prerogative ormai imprescindibili nella fase di progettazione di un componente.
In quest'ottica, la prevenzione degli errori progettuali penalizzanti per la produzione del componente e la capacità di dialogo costruttivo con i propri fornitori sono valori chiave per una moderna azienda che guarda sempre più all'innovazione e alla qualità dei propri prodotti.
Il seminario (della durata di 3 ore) ha lo scopo di illustrare le dinamiche dei processi produttivi fusori e di deformazione plastica dei metalli, nonché alcune tecniche di progettazione e ottimizzazione integrate, mirate alla realizzazione del componente secondo le specifiche di capitolato.
Il seminario è rivolto ai Direttori Tecnici, Responsabili R&D, Supply Chain Manager, Quality Manager di aziende che usufruiscono di forniture fusorie e di deformazione metalli.
Workshop: planning and negotiating with metal suppliers

EnginSoft is proud to announce a new event targeting all companies that make use of supplies sourced from foundries or metal forming companies. The seminar will take place at the 34th International CAE Conference, scheduled to take place at the Vicenza exhibition centre from 8 to 9 October 2018.
Manufacturability and quality control are essential prerogatives in the design phase of a component. Consequently, the prevention of design flaws that may have a detrimental effect on the production of the component, and the ability to constructively negotiate with suppliers are key capabilities for modern companies that increasingly strive for innovation and product quality.
The three-hour workshop (in the Italian language) will illustrate the dynamics of the foundry and metal forming production processes, as well as some integrated design and optimization techniques targeted at the realization of a component according to its technical specifications.
The seminar is aimed at Technical Managers, R&D Managers, Supply Chain Managers and Quality Managers.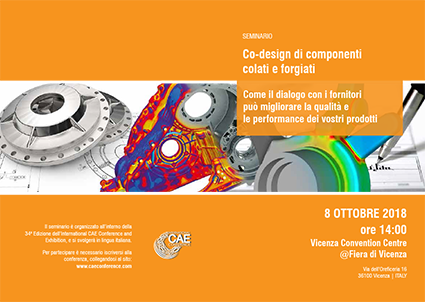 SEDE
Vicenza Convention Centre @Fiera di Vicenza
Via dell'Oreficeria 16 | 36100 Vicenza | ITALY


DATA E ORARIO
8 OTTOBRE 2018 | 14:00 - 17:00
ISCRIZIONE
Il seminario è organizzato all'interno della 34a Edizione dell'International CAE Conference and Exhibition, e si svolgerà in lingua italiana.
Per partecipare è necessario iscriversi alla conferenza.
Segreteria organizzativa
Silvia Galtarossa | EnginSoft SpA
s.galtarossa@enginsoft.com | Tel. +39 049 7705 311